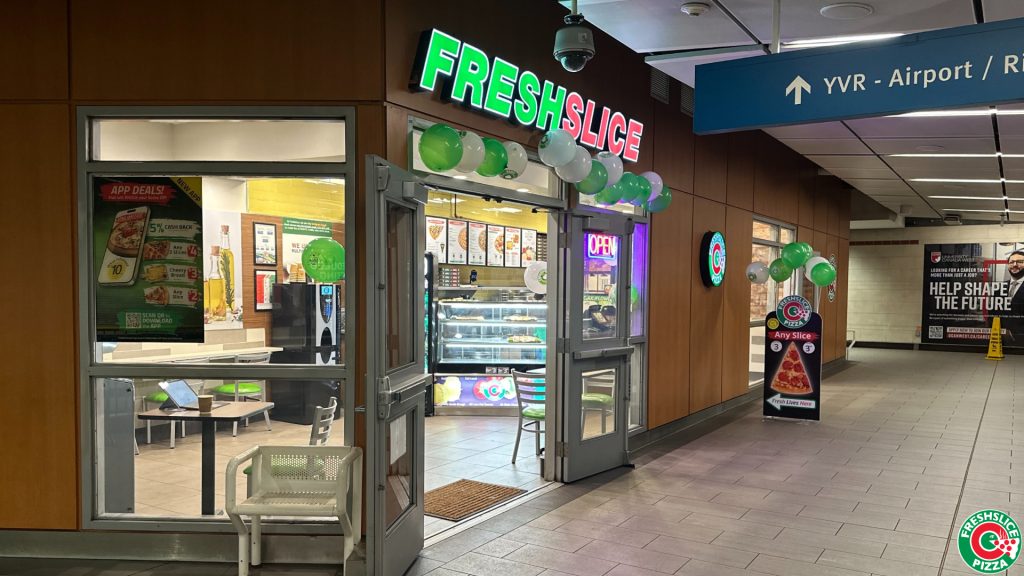 Exciting news for pizza lovers in Vancouver! Freshslice has recently opened our first-ever location at a SkyTrain station. With our mouthwatering menu and convenient operating hours, it's the perfect spot to grab a delicious slice on the go. Read on to find out more about this exciting development and the irresistible pizza options available at our new Freshslice location.
Located at the Broadway/City Hall SkyTrain Station, we offer commuters and locals a convenient and quick option for satisfying their pizza cravings. Whether you're heading to work in the morning, taking a break during the day, or heading home after a long day, we are open from 6 am to 12 am daily, ensuring you can grab a fresh and delicious slice whenever you need it.
Freshslice is known for our wide variety of pizza flavors, and this new location is no exception. From classic favorites to unique and mouthwatering options, our menu has something for everyone. Indulge in the timeless perfection of Pepperoni or go for the cheesy goodness of Veggie or Cheese pizza. If you're feeling adventurous, try our Butter Chicken Feast or the BBQ Chicken Bacon Feast for a fusion of flavors that will tantalize your taste buds. And for those who appreciate a taste of Italy, our Italian pizza is a must-try.
To make your Freshslice experience even more rewarding, don't forget to download our app. By doing so, you can enjoy a slice for just $2, a fantastic deal for a quality slice of pizza. Additionally, our app offers 5% cashback on every purchase, making it a win-win for pizza enthusiasts. Simply download the app, place your order, and enjoy the benefits of being a loyal Freshslice customer.
Our expansion to the Broadway/City Hall SkyTrain Station marks an exciting milestone for our pizza chain and our customers. With our extended operating hours, diverse menu options, and the added convenience of being located at a SkyTrain station, we offer a delectable solution for those seeking a quick and satisfying meal on the go. Don't miss out on the opportunity to indulge in our delicious slices and take advantage of the app's discounts and rewards. Visit our new Freshslice location today and treat yourself to a taste of pizza perfection!
HERE WE GROW AGAIN! Our first, but certainly not the last Freshslice at a SkyTrain station!